North American Infrastructure Dialogue 2018 - 25th January
Muse Hotel , New York City
Starts on January 25 Thu, 2018
09:00:00 Onwards

The North American Infrastructure Dialogue 2018 in New York City will take place on the 25th of January, bringing together the decision makers in infrastructure in the region.

International leaders in infrastructure have the opportunity to get together in a series of interactive sessions and 1:1 meetings in our exclusive Dialogue-Club.

Senior industry experts, including investors, lenders, developers, owners and policy makers will be discussing the latest trends in infrastructure in the US, Canada, Latin America and abroad.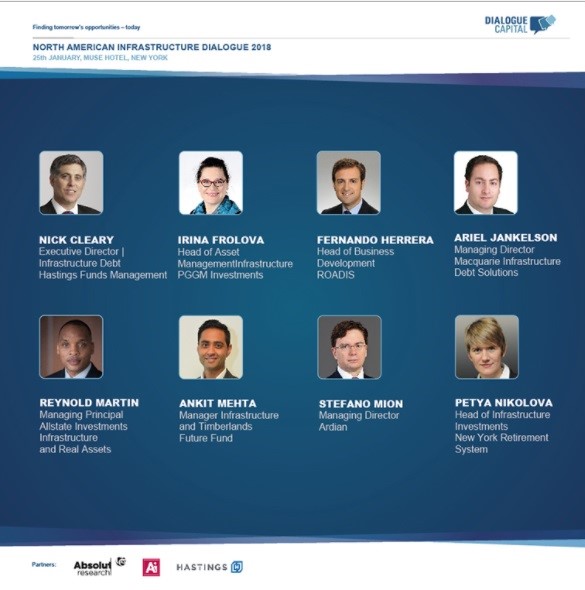 The agenda covers a broad range of topics, including:
1.
US infrastructure – 'Wait and see' or has the time come to invest?
2.
Road infrastructure – What are the opportunities and how can long-term funding be secured?
How can toll roads be operated successfully?
3.
How does cheap debt in the US shape the market? How can these models be improved?
4.
Senior debt investments in US – Ever longer maturities?
5.
How can investments in infrastructure be made more accessible given the complexity of the asset class?
Is a creative approach needed?
6.
Core - Infrastructure Investments in North America - What returns can be expected?
7.
What makes a good co-investor?

8. Infrastructure in LATAM - What regions are on top of the investor's list?



Agenda



09.30 – 10.30am Keynote

10.30 -11.00am Networking Break

Program 11.00 – 16:00pm (Lunch 13pm - 14.15pm)

Closing Drinks 4pm



Join us for the North American Infrastructure Dialogue 201
8 to find out more.


The program is in production now. We will update this page as the program develops.


If you wish to receive more information about the event: the most recent brochure and program book, being involved with the program, becoming a partner or sponsor, a delegate and registering with us, please email the team at:


info@dialoguecapital.com



We look forward to seeing you in NYC.

Yours sincerely,

Your Dialogue Capital Team