International Infrastructure Dialogue 2017 - Frankfurt
Venue: Rocco Forte Hotel Villa Kennedy, Address: Kennedyallee 70, 60596 Frankfurt, Germany, Frankfurt
Starts on June 28 Wed, 2017
14:15:00 Onwards


Due to the high demand, the 3rd international Infrastructure Dialogue 2017 in Frankfurt will take place again on two days, the 28th - 29th June, bringing together more industry leaders than ever.

International senior decision makers in infrastructure have the opportunity to get together in a series of interactive sessions and 1:1 meetings in our exclusive Dialogue-Club.

Senior industry experts, including investors, lenders, developers, owners and policy makers will be discussing the latest trends in infrastructure globally in Europe as well as in Germany.

Among the topics covered will be themes such as the best investment opportunities, new strategies in debt capital markets as well as energy projects, communication technology as well as new tools for financing infrastructure.


More key-themes will be:

· High price environments - How do investors respond?



· Direct- and co-investments in infrastructure - Where are the trophies?





· Investor's Deals - what is in the infrastructure pipeline and how can deal flow be secured?



· Smart-Cities - Investment potential or reaching for the stars?

· Are new financing models having an impact?
· Debt - Capital markets

· Current market conditions in Europe - Portfolio-diversification, what works, what doesn't?



· Emerging regions - What markets are hot, what drives them?







These and many other topics will be discussed in Frankfurt.
Join us for the Infrastructure Dialogue Frankfurt on 28th - 29th of June 2017 to find out more.

The program is in production now. We will update this page as the program develops.




If you wish to receive more information about the event: the most recent brochure and program book,

being involved with the program, becoming a partner or sponsor, a delegate and registering with us, please email the team at:


info@dialoguecapital.com



We look forward to seeing you in Frankfurt.

Yours sincerely,

Your Dialogue Capital Team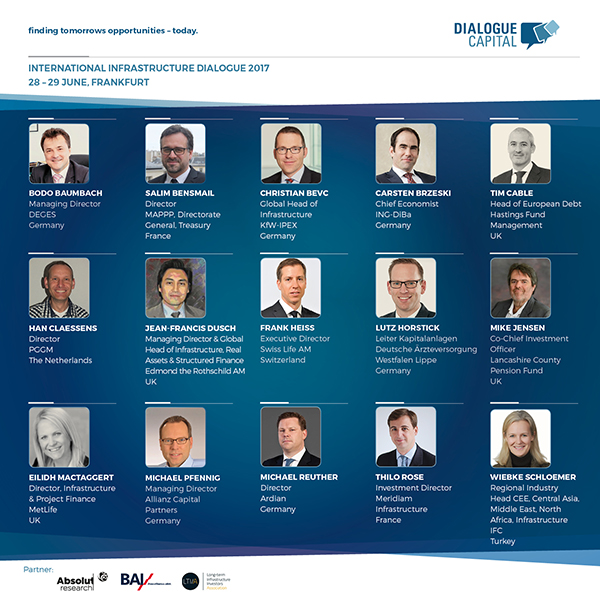 Herzlich Willkommen zum Infrastructure Dialogue in Frankfurt 2017!

Der 3. Internationale Infrastructure Dialogue 2017 bringt die leitenden Entscheidungsträger der Infrastrukturbranche zusammen.

Es haben sich bereits Investoren, Fondsmanager und Banker sowie Entwickler und Vertreter der öffentlichen Hand angemeldet, die sich in Form von interaktiven Sitzungen, Einzelgesprächen und sogenannten "Idea Labs" austauschen werden.

Aufgrund der erhöhten Nachfrage, wird der kommende "Dialogue" wieder an zwei Tagen, am 28. und 29. Juni stattfinden.




Zu den Schlϋsselthemen zählen:

· High price environments - How do investors respond?

· Direct- and co-investments in infrastructure - Where are the trophies?

· Deutsche Strasseninfrastruktur - Finanzierungen, Huerden & Loesungen?

· Investor's Deals - what is in the infrastructure pipeline and how can deal flow be secured?

· Smart-Cities - Investment potential or reaching for the stars?

· Investoren & Regulationen - Weichenstellung fuer mehr Investitionen?

· Are new financing models having an impact?

· Debt - Capital markets

· Current market conditions in Europe - Portfolio-diversification, what works, what doesn't?

· Emerging regions - What markets are hot, what drives them?




Diese und viele andere Themen werden in Frankfurt diskutiert.


Seien Sie dabei und bringen Sie sich aktiv in die Themen ein. Finden Sie neue Geschäftspartner beim Infrastructure Dialogue 2017 in Frankfurt.

Das Programm ist jetzt in Produktion. Wir werden diese Seite im Zuge der Programmentwicklung aktualisieren.


Für mehr Informationen und Fragen zur Beteiligung am Programm, Broschuere, Sponsoring, Partnerschaften oder einfachen Teilnahme und Anmeldung schreiben Sie uns bitte eine Email an: info@dialoguecapital.com.


Wir freuen uns darauf, Sie in Frankfurt zu begrüßen.

Mit freundlichen Grϋßen

Ihr Infrastructure Dialogue-Team